Welcome!
---
Welcome to the Montana Cutting Horse Association. The purpose of the MCHA shall be to encourage education in equine activities, interest in cutting horses and to promote the sport of cutting in and around the State of Montana.
---
2020 CLASS CHAMPIONS

Open: Cats Smart Ricochet
Rider: Mike Giannini
Owner: Ron Wheeler

Non-Pro: Coontail Hat
Rider: Jerry Gregory
Owner: Gregory Ranches LLC

50 AM: Wise Little Pepto
Rider/Owner: Joe Kalt

35 NP and 25 NHNP: Reys Stylish Oak
Rider/Owner: Jack Christensen

15 AM: Metallic Oaks
Rider: Sharmon Huber
Owner: La Casa Del Rey, LLC

25 NH: Stella Merada
Rider: Robin Hayes
Owner: Gregory Ranches LLC

5 NH & Open Horse of the Year: That Spotomine
Rider: Wylie Fraser
Owner: Margarita Church




Photo Not Available
2000 Limit Rider: Thad York
Horse: Smooth Sissy Rey

Sr Youth: Ryatt Fraser
Horse: Catty Dual
Owner: Nancy LaCounte

Jr Youth: Wyatt Christensen

5 NHNP: Styling Smoke
Rider: John Murdock
Owner: John & Scott Murdock

Open Derby: RTR Reasontobelieve
Rider: Dax Hadlock
Owner: Redtail Ranch Performance LLC

Non Pro Derby: Doc Hickok
Rider/Owner: Danielle Pace

Open Classic: Times Be Tuff
Rider: Andy Christensen
Owner: David Miller

Non Pro Classic: Took A Look
Rider/Owner: David Miller

Non Pro Horse of the Year: Shez Spotless
Rider: Ashley Lee
Owner: Cody Lee
---
GET YOUR MCHA LICENSE PLATE!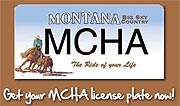 MCHA has reached it's goal of 400 plates! We want to thank all of those who purchased license plates for your vehicles and trailers! MCHA would like to especially thank Todd & Lee Wirthlin of TLC Ranch, for all of the hard work that was put into saving our license plate and for their generous donation of the Noble Shelter for the giveaway. We could not have reached the goal with out you!
Next time you register or renew a vehicle or wish to purchase a new plate for your horse trailer, ask for the MCHA plate! This is a HUGE part of MCHA's income, help support MCHA! Click here for more information
---
Please visit our show schedule page for entry forms and info.
Bronze Sponsors
Susan Swanberg
Rankin Enterprises
Nancy LaCounte and Rita Church
Doyl & Jacqueline Fritz
Hayden Heaphy
---
NWAB Sponsors
Tegeler & Associates Insurance - WY
Prairie States Insurance Agency
Suzanne Nellen
Dorothy & John Seymour
---
Youth Sponsors
The Dvarishkis Family
Williams Horse and Cattle Company
Renea & Cory Williams
---
We want you to be an MCHA member!!!
2020 Membership Prices
Individual Membership - $35
Family Membership- $50 (Immediate family members to include Husband, Wife, and Children)
Youth Membership - $10
click here for membership application.
---
Event Photo Galleries
Be sure to check out our photo galleries!
Click here to view.
---